First Published 2/2/10
Updated 1/23/11
I've decided that 2010 will be the year for finishing projects. The only new projects I will start are smaller ones for birthday presents etc.
and I reserve the right to end the year with one UFO. I know what it will be already. Its a king size quilt that I started in a class in 2004 or 2005. The top is finished, the back is finished it just needs to be quilted. despite my my new, larger pretty machine I am not comfortable quilting it myself.
So my list of UFO's includes:
Coffee quilt for my mom. Needs a border and I need to find backing fabric. I've been on the hunt for newspaper fabric.Completed 1/8/11
Christmas quilt: Top is finished, backing is cut? I need to piece it together. I think I have enough batting for this as well
Thanksgiving quilt: Top finished, back pieced and I have batting. probably the next project to tackle
unnamed purple and green: started it at a quilt retreat I went to in January of last year. I think i may have 10 blocks finished our of a gazillion.(well maybe not that many but since its been well over a year since I worked on it, I cant remember anything other than its colors)
Housewarming runner: table runner and napkins for some friends that bought their first house last summer. I started it then.
completed 2/1/2010
Love Notes wall hanging: its about 11X14 and looks something like this: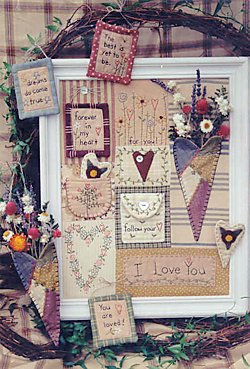 I have the foundation for the applique and embroidery finished but have been daunted by the hand work because I don't know how to do anything but a running stitch by hand